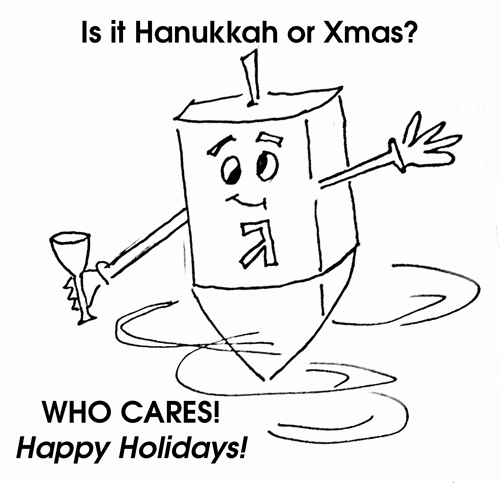 8 Days, 8 Nights and So Many questions
Hanukkah is like that weird kid in middle school your mother forces you to hang out with. TV executives and magazine editors meet about holiday content only to end a productive creative brainstorming session with, "Crap, we forgot about Hanukah."
But this year, things are different. Adam Sandler has given us part 4 of the much acclaimed Hanukkah song and we are introducing Hanukkah, Christmas style (because…well, Christmas is more popular and, when necessary, we are not above giving into peer pressure…also South Park has taken a backseat since Book Of Mormon won a Tony and what's a Hanukkah song without a Hanukkah poem).
Twas the night before Hanukkah, when all thro the house
Not a creature was stirring, not even a mouse;
But "night" is misleading since of them we have eight
And with no hopes of Santa, there's no reason to wait
Children don't dream of sugar made plums
Nor nutcracking soldiers parading with drums
But as Mama and Papa tucked in for their sleep
On our lawn was a clatter, a bang, and a beep.
I sprang from the bed to see what was the matter
I wondered what caused such a bang beep and clatter.
Away to the window I flew like a flash
Tore open the shutters, and threw up the sash.
The moon on the breast of the new fallen snow
Gave the lustre of mid-day to objects below.
When, what to my wondering eyes should appear,
But Judah the Maccabee with his helmet and spear.
With an army behind him, I watched them come near
And Judah called out in a voice loud and clear,
"Mattathias, my father, and my brothers of four,
Come John, Come Simon, Jonathan, and Eleazar.
We approach and reveal a story of might
The story that beckons this Festival of Light.
A Greek king, Antiochus, deemed our religion a crime
So to war we did go for a full three years time.
Triumphant we were but our Temple desecrated
So we worked to rebuild for a new dedication
The menorah had to be lit with purified oil
But only one jug could be found amongst the turmoil.
We lit the lone candles, knowing their light was short lived
But for eight whole days, their light did not dim.
A miracle it was that our candles stayed bright
And for this we rejoice every year with new light
For each day of this holiday one candle gets lit
Until the flames of eight candles flicker and flit.
So remember our fight on these eight days of glory."
And thus he concluded the Hanukkah story.
Judah took a step back and to his team gave a whistle
And away they all flew, like the down of the thistle:
But I heard him exclaim, ere he drove out of sight-
Happy Hanukkah to all, and to all a good night.