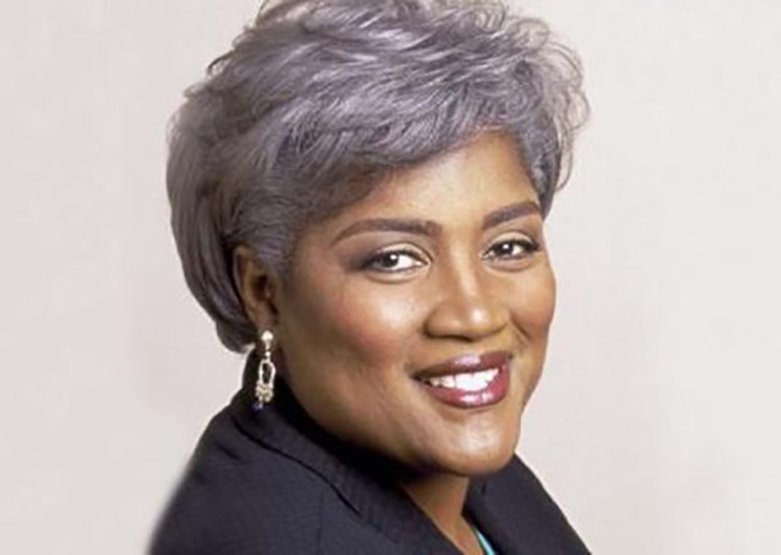 This week, we're launching our featured PYPO Player Questionnaire! Every Thursday we will showcase a PYPO Player who inspires us. Our first PYPO Player is…..drumroll…..Donna Brazile!

Donna is a Democratic political strategist, vice chair of voter registration and participation for the Democratic National Committee and the former interim national chair of the DNC, as well as the former chair of the DNC's Voting Rights Institute.
Brazile began her political career at the age of nine when she worked to elect a city council candidate who had promised to build a playground in her neighborhood; the candidate won, the swing set was installed, and a lifelong passion for political progress was ignited. Four decades and innumerable state and local campaigns later, Brazile has worked on every presidential campaign from 1976 through 2000, when she became the first African American to manage a presidential campaign.
Author of the best-selling memoir Cooking with Grease: Stirring the Pots in American Politics, Brazile is an adjunct professor at Georgetown University; a syndicated columnist for Ms. Magazine, and O, The Oprah Magazine; and an on-air contributor to CNN and ABC, where she regularly appears on This Week. Her secret passion is acting: she has recently made two cameo appearances on CBS's The Good Wife. Ask her and she'll tell you that acting, after all, is the key to success in politics.
1.) What is your occupation?
Political Commentator for CNN and ABC News and Adjunct Professor, Georgetown University.
2.) If you weren't a political commentator and strategist, what would you be?
Political Diva.
3.) Who is the funniest person you know?
Stephen Colbert
4.) On a plane would you rather sit next to the person with a raging cold, the nonstop talker or the person with a tuna and onion sandwich?
Tuna and red onions!
5.) On a plane would you rather sit next to Donald Trump, Ted Cruz or Bernie Sanders?
Donald Trump (I would like to give him some off the record advice.)
6.) When are you most happy?
At home gardening or in Hawaii watching the sunset.
7.) What makes you sad?
Mean people.
Seeing homeless people.
Watching starving kids.
8.) What is your current state of mind?
Joyful and optimistic
9.) When did you last cry?
This weekend. I won a tiara and later thought of it as a crown with thorns.
10.) When did you last apologize? And to whom?
I do it so often. When I am late, when I don't have my act together or when I am tired and grumpy.
11.) Chicken, steak or quinoa?
Quinoa.
12.) How do you Put Your Pretty On? (How do you get your game face on, so to speak!)
A quick prayer, an affirmation and a sense of gratitude.
To learn more about Donna, go to http://www.donnabrazile.com and follow her on Twitter at http://www.twitter.com/donnabrazile